One more Rottweiler needed
For our loyal customers and those who joined us lately we created this

FREE Newsletter

, which you can subscribe for right here on this page! This is an alternative pages, our archive of all sent Newsletters for you not to miss something interesting, topical, life themes and discussions. Join us, learn everything you're interested in, get to know more about your dog's life and features and enjoy reading this intertaining, yet informative source!!
I'm 100% certain you love your Rottweiler very much. Many dog owners all over the world after they start keeping one Rotty, decide that it's not enough and want to get even more devotion and love, that are coming from these wonderful dogs. It's good to have one Rottweiler, but it's even better to have two, agree? ;)
Thus, it's no wonder that sooner or later a dog owner, and maybe you as well, start thinking over the purchase of one more puppy. However, it's not that simple. You've likely already enjoyed all the "amenities" of puppy's presence in your house. Have you ever thought about bringing to your house not a puppy, but an adult, more or less trained dog? Rottweiler breeders very often have several offers to a person, who is eager to get pretty black and red puppy.
Of course, the decision to get one more dog is extremely important and influences life of all members of your family. I guess it will be interesting for you to read the article below and remind yourself the main features of Rottweiler's temperament. May be this very article will convince you to call to the breeder immediately or vice versa you will decide to postpone this decision to better times. No hurry! The article, we want to pay your attention to, will always be available and you are welcomed to return to it any minute.
I really hope I helped you or at least gave you a decent idea. Anyway, I'm sure that your Rottweiler will be very glad to have "a friend", who belongs to the same breed. I can even imagine the expression on his snout :)
Your dog's joy is always top priority for me and our team!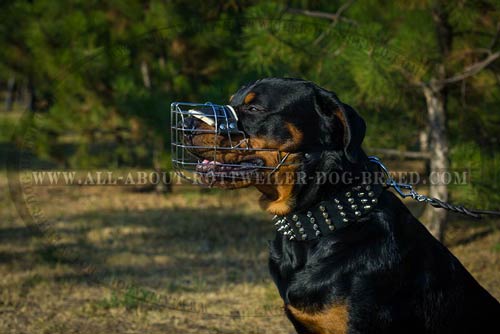 Your dog's comfort is very important to you? Click on the picture and read about one of the most cozy Muzzles!
German Rottweiler
The Rottie is a natural guard dog with a mellow temperament. They are highly intelligent and have proven their worth beyond question in police, military, and customs work over many centuries. Because of their size, training should begin fairly young - while the dog is still small, and great care should be taken to ensure that the dog is not made vicious. This breed needs a lot of companionship and socialization to be truly happy.
---