Every Rottweiler needs a friend
For our loyal customers and those who joined us lately we created this

FREE Newsletter

, which you can subscribe for right here on this page! This is an alternative pages, our archive of all sent Newsletters for you not to miss something interesting, topical, life themes and discussions. Join us, learn everything you're interested in, get to know more about your dog's life and features and enjoy reading this intertaining, yet informative source!!
Nobody can live a happy life without friends. This statement is true both for people and dogs. Does your Rotty have friends? Of course, you are the biggest and the best friend for him. However, your dog develops faster if he communicates with other dogs, that belong to the same breed. If your dog is a puppy, other Rotties can be good teachers and protectors for him. If your pet is adult, other dogs may be awesome friends to spend time with.
It's impossible to express all joy, your dog feels when running, jumping and playing with his congeners. How does your dog react when he meets other Rottweiler? Does he fawn and show that he is open for new connections? Great! It means you have very friendly and even-tempered pet. If your Rotty is a puppy, no doubt he will be happy to see any living being.
However, please be careful, dear Rottweiler owner. It's always good to be prudent, isn't it? Each dog has it's own unique character and behaviour, thus it's important to react quickly if necessary.
We wish your pet to find many friends and enjoy his everyday walking to the full!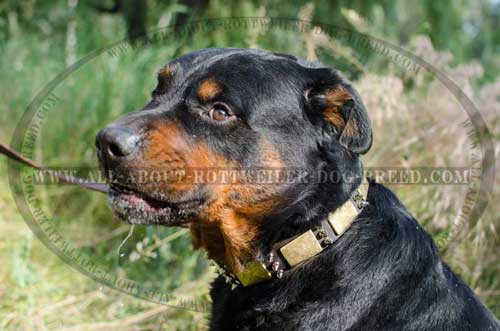 Your dog's appearance is very important to you? Click on the picture and read about one of the most beautiful Collars!
---